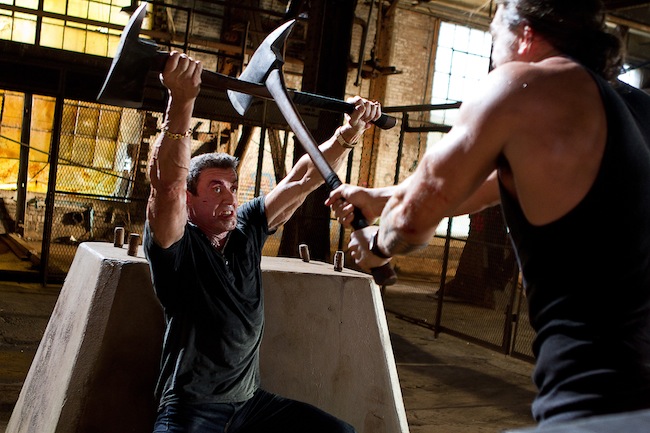 INT. BOARDROOM WITH NOTHING BUT EMPTY CANS OF REDBULL ACROSS THE FLOOR WITH POSTERS OF A LAMBORGHINI DIABLO ON THE WALL. BROSEF IS SITTING AT HIS LAPTOP READING JOSE CANSECO'S TWITTER PAGE. TONY BROMO WALKS IN.
TONY BROMO: Bro, I was thinking about a new fight scene for
Bullet To The Head
.
BROSEF: Talking to me brother.
BROMO FLIPS THE CHAIR BACKWARDS AND SITS, WHILE SIPPING HIS REDBULL.
BROMO: There should be an axe fight. I'm talking something out of
Game of Thrones
. Just old school Sly going mono e mono with Conan.
BROSEF: Sounds awesome. What's
Game of Thrones
?
BROMO: The HBO show based on the books by George R.R. Martin's epic tale of the war between different families in medival-like times trying to hold ground of Westeros.
BROSEF: Nah, don't read books. Threw out my Lance Armstrong books after that Oprah interview.
BROMO: Anyways, there should be an axe fight between Rambo and Conan. Like vikings. Think of this as our tribute to the eternal bro, Johnny Drama. He was forever known for his Viking Quest show, I mean we only saw him in the costume. Let's do this for Drama.
BROSEF: Sounds legit put it in.
BROSEF & BROMO IN UNISON:
Victory!
BROSEF CRUSHES RED BULL, STEPS OVER TWO GIRLS MAKING OUT ON THE FLOOR AND SNORTS A LINE OF COCAINE BEFORE EXITING.
I've seen a lot of ridiculous things in action movies, especially straight to DVD action films and
Bollywood movies
but to have an axe fight. In a warehouse. In a 2013. That's just f*ckin'
stupid. Axes are short, like airplane arm rest short. So that fact that these huge* muscular guys
are warranted to have a serious fight with short sticks with a hunk of metal at the end of it is laughable. Check the this short clip featuring Sylvester's new face and Jason Momoa.
* -- The biggest shock I found out was that Sly was only 5'9. I knew Van Damme was short but Sly too? Everything is a lie.