Summertime. Bright sun, warm weather, girls in bikinis, time at the cottage, summer anthems and marathon binges of shows you missed out on. Now there are shows returning this summer but nothing notable until late June/early July (True Blood on June 16th,
Under the Dome
on June 24th, The Newsroom on July 14th), these are just recommendations for you to watch and hopefully you find something you love and you can tell your friends, family members, co-workers, significant other or significant side chick/dude. So here's a list of newer shows/in their first few seasons that may not be as recognized as others. Remember these are suggestions that I've either watched or heard good things about, I won't steer you wrong. And I'm not one of those people yammering on about
Game of Thrones
.
Spartacus: The Entire Series
(4 seasons, 39 episodes)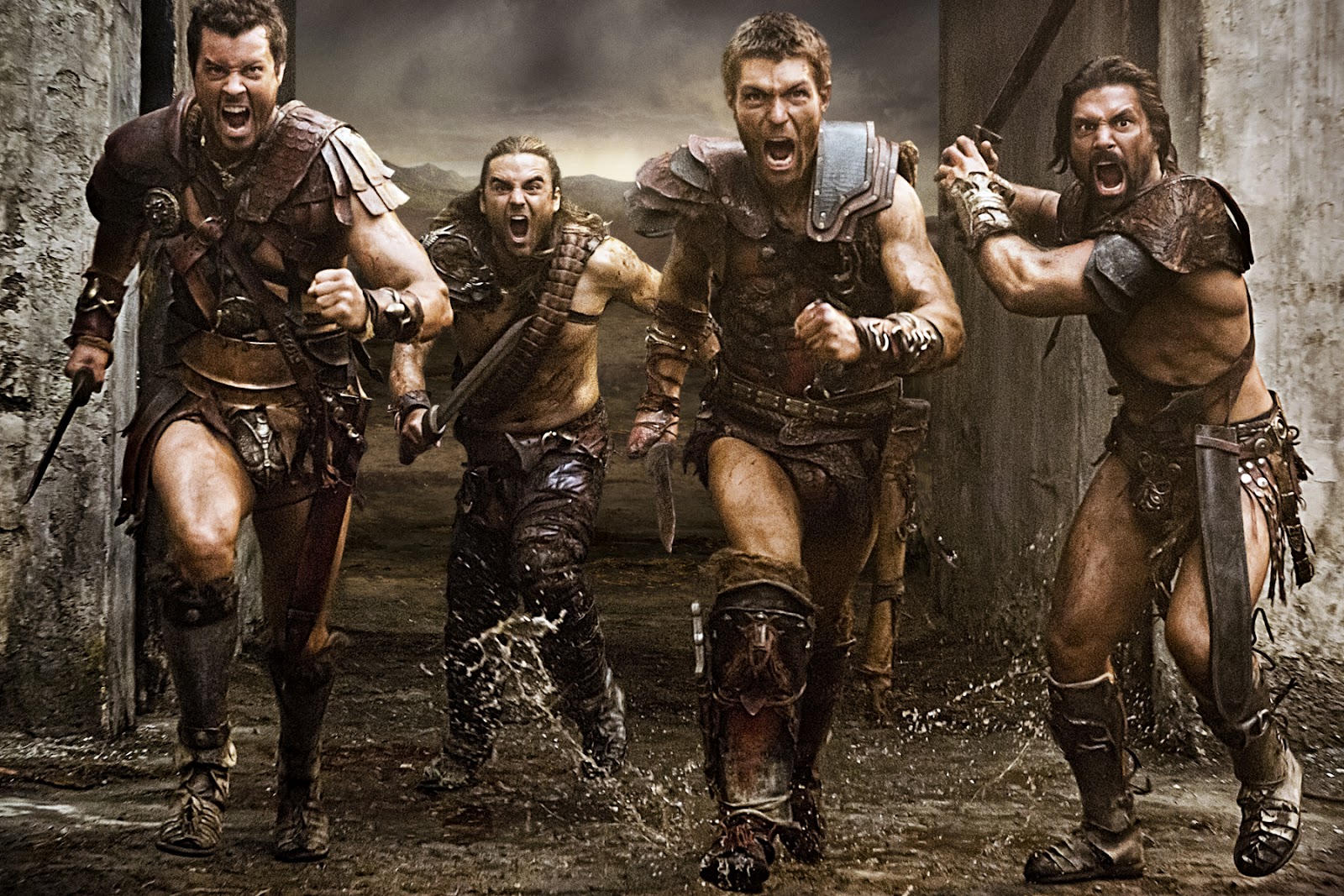 Now when this first premiered, even before that when it was
renewed before an episode even aired
, the general synopsis was tits, blood, gore and more tits. Then a few episodes in they decided to focus on the story. In the first season, the season Spartacus wasn't exactly Spartacus yet. A Thracian warrior is betrayed by his Roman "allies" and forced into slavery seperating him from his wife, where he leads his brethren and others in a rebellion against their oppressors. Throughout the series, the fighting just gets better and better. Unbelievable slow motion dismemberments and decapitations of body parts. CGI blood everywhere. Steamy sex scenes. Historical costumes. And yes, it's Ancient Greece so there's some male on male action. Just look at the corner of the screen if you're uncomfortable.
When actor Andy Whitfield dealt with a more serious battle with cancer (he later passed), they made a 6 episode prequel season,
Spartacus: Gods of the Arena
that introduced the former champion of the arena, the Zack Morris of the coliseum, Gannicus. Outside of the battle Gannicus had his left hand on that jug of wine, right hand on that pu... you get the idea. The story is intriguing, adding layers of depth, intertwining fictional and historical facts, you find yourself emotionally attached to characters by accident. After Andy passed (Liam McIntyre becoming his replacement), they continued on with season two,
Spartacus: Vengeance
and season three,
Spartacus: War of the Damned
, ending so damn climatic. You should've seen me during that last episode amped outta my mind! I HIGHLY recommend it. And you get to see Xena naked. And ladies, there's a lot of shirtless guys, a lot.
Raising Hope
(3 Seasons, 66 episodes)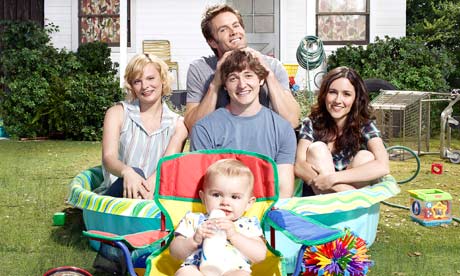 Silly, goofy, cute, charming and occasionally funny is the best way to describe
Raising Hope
. I mean the silliness begins in the synopsis: Jimmy Chance is a clueless 25-year-old who impregnates a serial killer during a one-night-stand. After the mother is sentenced to death and electrocuted, Jimmy earns custody and relies on his wacky family to raise the child. I think everyone needs goofiness in their programming and
Raising Hope
, is more silly than stupid and they deliver.
It does borderline on white trash but not fresh out of the trailer park more close to the fence past the murky creek that doubles as a kiddie pool. Showrunner Greg Garcia also created
My Name Is Earl
and
Yes, Dear
. I haven't met a soul who didn't enjoy
Yes, Dear
. He obviously knows how to write heartwarming and earnest tales from the
lower lower lower middle class
and it got renewed for it's fourth season.
Hannibal
(1 season, 13 episodes)
Based on the Red Dragon novel, the drama follows FBI criminal profiler Will Graham and psychiatrist Dr. Hannibal Lecter. Mixing creepiness, tough suits and great acting,
Hannibal
looks like a show that's going to be around for awhile. Outside of the pilot, I haven't seen much but it definitely has a fan base and a buzz around it. AV Club hasn't given one episode anything less than a B.
Hannibal
was one of the first shows I thought of when conducting this list.
Southland
(5 seasons, 44 episodes)
Think we all can go for a cop show. This cop show stars Regina King and Ben McKenzie (
O.C.
fans should recognize him), taking a look at the lives of LAPD officers. For some reason when it comes to shows or movies depicting the LAPD, it's always described as "raw and gritty". But when you have great
camerawork
like in this scene, I see why.
Bob's Burgers
(3 seasons, 45 episodes)
There aren't too many popular animated shows out that's doesn't have Seth MacFarlane attached to it. Everybody (still) watches
Family Guy
,
American Dad
is probable the best out of the lot and
Cleveland Show
is (still) on the air. The best animated shows out are
Archer
,
Adventure Time
and
Bob's Burgers
. It also helps H Jon Benjamin is on both
Archer, Bob's Burgers
and did voicework for
Family Guy
.
I've caught it a few times when there's no football to be watched and every time, I find my sides hurting from laughter. The show is really good, the kids are all insane and the parents, Bob and Linda have a Homer and Marge type of relationship where you know they love each other but they're both aware of each other's faults. Oh and they love to make bad music
so catchy
and
awesome
. Especially
Oil Spill
, it's NOT subtle at all.
Peep Show
(8 seasons, 48 episodes)
Now if you want to take a trip overseas to England,
Peep Show
follows flatmates Mark and Jeremy, also goes by Jez, living in South London from their point-of-view. The show is shot is from the characters point-of-view with the internal thoughts of Mark and Jeremy as voiceovers. They're idiots. I feel like sometimes you have to be as blunt as possible and they're idiots. While Mark is an afficiendo of ancient history, he's a neurotic twat who falls head over heels for anyone woman that bats an eyelash at him and most times fails. Jeremy is a wannabe musician who sees himself as a self proclaimed rockstar and sex machine who constantly fails at music and refusing to get a regular job.
Now since it's from the UK, some of the pop culture references might go over your head but if you're some what familiar with what's happening overseas you'll catch on. I tried telling someone about this show in the past and she wasn't that big of a fan, most likely she started from the beginning. With some shows it's not always a hit from the first episode or season, more on that later. When I discovered the show, I watched an episode from the third season, I had the thought process that if this show is as funny as they say it is I can jump right in the middle and be satisfied. And I was.
Going on for eight series, the punchline per ratio of this show equals that of only
Happy Endings
. With a strong supporting cast of characters,
Peep Show
is one of the funniest shows I've seen in years. Great cast, storylines on the levels of
It's Always Sunny
of offensiveness and absurdity, I highly recommend Peep Show for anyone whose a fan of British humour. Bonus: every episode is on YouTube.
Honorable Mentions:
Spaced.
(2 seasons, 14 episodes) If you're a fan of Hot Fuzz and Shaun of the Dead, this English comedy stars Simon Pegg as one half of a pretend couple that's renting a room. With odes to Pulp Fiction, Star Wars and Tekken, this is a great short comedy to watch. The Tekken scene had me stitches for days.
Scandal.
(2 season, 29 episodes) Don't think any black female would let me get away without mentioning Scandal. Ask any black female if they watch Scandal and they might go on a full 45 minute set why you should watch Scandal. As for as I know, it involves Kerry Washington, she's sleeping with the president (I think) and scandalous things happen. That's all I got, I don't know
what else to say
.
Don't Trust The B... in Apartment 23.
(2 seasons, 26 episodes) I'm mad this got cancelled. It was a short run but it was a great run that got James Van der Beek a pay cheque. June who within a week loses her boyfriend, job and most of her sanity, moves in with Chloe whose known for being a bitch. But a fun bitch, so much fun. They got away with a lot, I mean a lot of dirty jokes for network television. And I miss Chloe just writing about this, here's a
gif tribute
of her.
Justified.
(4 seasons, 52 episodes) Because it's really good? I mean, I wouldn't steer you wrong. I won't do that, if you've been reading this blog for awhile (or know me personally), you know I wouldn't suggest something to you that you wouldn't enjoy. I mean, was kinda right about
Girls
back in
December
. How was the second season? Not that great right? Not funny right? Yeah, I don't want to dislocate my shoulder by patting myself on the back but I'm right about some things sometimes.
Justified
is good though, deputy US Marshall Raylan Givens enforces his brand of justice in Kentucky. Raylan is a suave S.O.B., swagger unseen since old westerns. Layered storylines, complex characters and great underappreciated acting. Do I have to say more because YouTube doesn't give me much outside of music tributes?
Now I wouldn't recommend a show to you that i don't believe in or think you'll stick around for after the first five episodes. That's why I didn't say
The Mindy Project
, it took half the season for the core cast to be put together. Mindy and Danny are the only ones that were fully established from the beginning, everyone else took their own sweet time. It's good but you have to wait half the season of a 24 episode season for it to find it's feet.
Revolution
, no.
Homeland
the first season, good. Second, meh.
Veep
. I tried y'all, I really did. Maybe you'll like it more, I hear good things but me personally, I didn't hate it, I just... I dunno.
Blind recommendation:
The Americans
. Covert Russian spies posing as a suburban couple during the Cold War.